He is an artist who is very young and talented with good strong vibes.His Solo Exhibition "SCREAM" is now at ARTON Gallery in Shibuya for entrance free. This place is almost in center of Shibuya. From Shibuya St, just go straight along this "center street" when you see starbucks and tsutaya at the right side. And make right at Macdonalds and this ARTON Gallery is at the left side on 2nd floor.Taking only 3 min from the St.
I saw his LIVE PAINTING the other night and His session was like about 5hours and kept painting some parts and suddenly painted some part black. and painted again. This is real LIVE PAINT.He changed his painting and imagination all the time and ejoyed this LIVE moment.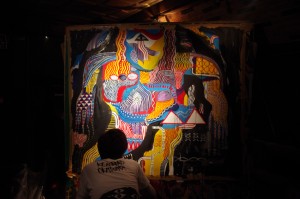 At this Exhibition "SCREAM" you can see his alot of art works on the white wall. Those are very tribal taste with pastel-colored but strong shining.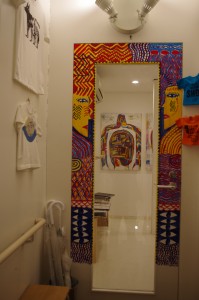 I guess it's easire to just see by yourself.
They opne until -3.8(thu) 12:00-21:00 eveyday.
3days left!!!! hury up!!!!
If you are around shibuya area ,please stop by see his art. and spread the word! Thank you!
---
---